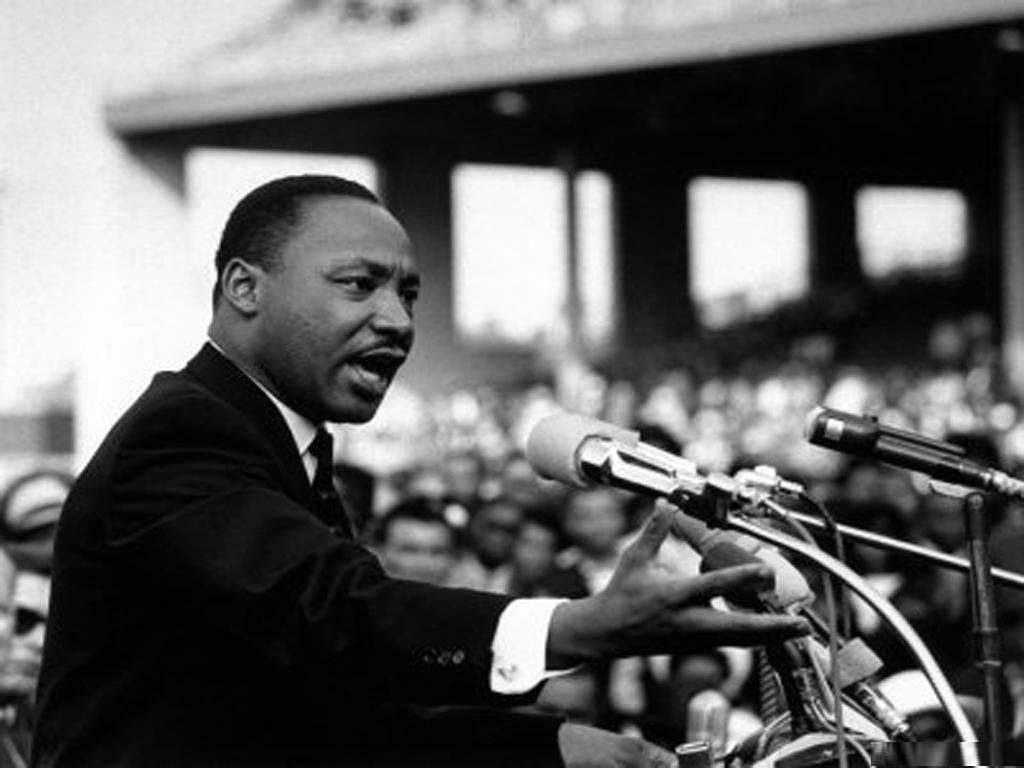 Today is Martin Luther King Day in the states, a day widely used to reflect on his example. So what did Martin Luther King Jr really preach? For even more than being an activist and a teacher, he was a Preacher.
We identify him with race and with class, and with a struggle built on love and equality. We know he fought to break down every sense of 'us versus them', every log in our eyes that stopped us from really seeing each other. So we fight for equality for our friends, our brothers and sisters of different nations, colours, genders, sexualities and so on. But do we really see as he saw? That our brothers and sisters whom we fight for are in truth are ourselves? That we cannot harm an 'other' without harming ourselves? That we are all, always implicated? The truth of interconnectedness is that there is no other. There is only one, and when I attack any 'one' I attack myself. My conscience and my Heart can never be at peace while there is still one being standing who I would condemn as other.
And so all problems in the world, are really only this one problem. As King said:
The problem of racism, economic exploitation, and war, are all interrelated.
I have seen two comments today about King's dream. The first was to emphasise that it was far greater than most of us are able to see. That it was not only about peace 'between' us all, but rather, it was about transcending any 'in between' at all and grasping what interconnectedness really means. The second was to suggest that King's dream really required that we become as he was in his vision. That might be a bit like saying that we aspire to hold the Christ space (as he aspired, if not attained). This is the work of a saint, which is why someone like King sits so high in his ideals above the daily clamour. His vision suggested that as beautiful and wise as it is to fight for each other, we must also realise, if we are really going to understand the urgency of it, that we do it for ourselves – and that it is also the most sane thing we can do.
It is the work of a Christ of action, a Christ who with sword in hand said:
I come not in Peace, I come with a Sword.
So what does righteous anger do (as opposed to righteousness, or anger)? How does such anger channeled in the service of love transform rather than divide? It says that 'things must change' rather than 'you are wrong'. For a man like King, it both begs and commands that we stop hurting each other, and ergo ourselves. It is a command arising out of a deep pain in the face of such self-harm, rather than a tirade delivered in the face of harm caused by an 'other'.
To 'preach' means only to speak the highest Truth. To give voice to the highest. It is regrettable that more often we associate that word precisely with anger and righteousness rather than with love. We associate it with telling another how they need to be. King preached, for true preaching lifts us up and unfolds us rather than condensing us only further into ourselves.
King's dream was, like Christ's command, that we become more like him – or at least like his vision. That we become more like ourselves in our fullest humanity. That we recognise ourselves – in ourselves and in each other.
For those who avow 'no interest in politics' – it is time to open your eyes and see the cost of your false divide. This world is the only home we will ever have. It is ours to redeem.
Peace,
Emma